Regular price
Sale price
$80.00 CAD
Unit price
per
Sale
Sold out
GO-NATURAL® ALL-IN-ONE Cosmetic®
*Self-Adjusting Multi-Use Professional Grade Magic Powder™
The only compact you need. Designed for any skin tone, this Go-Natural Magic Powder uses a translucent blend of natural pigments and light reflectors to enhance your natural coloring, brighten and blend away imperfections.
Have it at the ready for use as a blush, foundation, eye shadow, concealer, brow color, lip color, and more.
One Shade Self-Adjusts - Works For All !
* A 2 Year Supply With Average Everyday Use !
-  with Vegan Retractable Multi-Use Brush - with Lid for Travel Convenience & Sanitary Purposes (Value: $50) + Lip Applicator, Detail Applicator & Cosmetic Travel Bag
 REGULAR: $80 

 

(a $140 Value)
Buy 2 Sets for Free Shipping 
Buy 3 for 4th Set Free & Free Shipping
Worldwide
- Stock Up & Save Even More & Makes The perfect Unique Gift 
- Canada - is Canadian Dollars, No Exchange or Duty, Ships Canada Post !
EACH SET INCLUDES: 
Apr. 2 year supply (14 gr.) of the 

GO-NATURAL® ALL-IN-ONE® Professional Grade & Vegan "Magic Powder"™ 

in a round functional 2-level compact

ultra-soft vegan multi-use retractable brush with lid (TIP: slide the retractor to intensify cheek, eye & spot conceal) (Value: $50)

small brush

lip & detail applicator

cosmetic travel pouch  
About

 

GO-NATURAL®
ALL-IN-ONE®
Blush, Foundation, Eye-Shadow, Lip Color, Concealer, Brow, Hi-Light, Contour, Illuminator 
&
1-SHADE
 - Self-Adjusts - 
Works for ALL ~  all skin-tones, all skin-types, all-ages.
1 Product Replaces 8
1-SHADE self-adjusts to work uniquely for all
Enhances YOUR unique pigments & bone structure for Instant natural ALL-IN-ONE results
Blends away imperfections for a smooth flawless finish
Neutralizes redness
Unique individual self-adjusting results - different on each - always natural
Produces a fresh, natural, healthy glow - without sparkles !
Surprising stunning results - instantly
Never looks or feels caked on - feels light & fresh all day
Save time & money 
Perfect for travel & those on-the-go  
Makes a great unique gift  
              Just Brush-On & Go ... it's that easy !
Featured on 3 major shopping channels including QVC, TSC & TVSN
Editor's PICK LUXURY TRAVEL, AMERICAN SPA, SPECIALTY RETAIL Magazines 
Proudly Made in North America Since 1999
Established Specialty Retail & Professional Beauty Best-Seller

Prestige Luxury Beauty

A Professional Grade Product
Natural vitamins, minerals & antioxidants 
Vegan & Cruelty-Free

 

Professional Grade / Made in North America / Paraben Free / Vegan / Gluten Free / Cruelty Free / SPF Free / with Natural Vitamins / Minerals / Anti-Oxidants
REAL REVIEWS 
Reviewed on 03/16/2022
Best makeup product EVER!!!
I am a 63 year old women who has purchased high end makeup products since I was 18. This is hands down the best product I have ever purchased in a make up line. The glow on my skin makes me look 10 years younger. I am going to be purchasing more very soon!
A Healthy Glow 
Heather from Aspen, CO
This is perfect. I have always struggled to find a color to match my skin-tone, and hated the look and feel of foundation - the color does self-adjust to be perfect when you just use a just a little like it says and it feels so light and fresh. I love the glow - it makes me look younger and healthier. I also love that it is used for eye-shadow, blush, lip color, so takes less time and saves money. This is an amazing product that does what it says.
LOVE IT., July 4
Reviewer: kitty j. (Brentwood, BC)
I purchased go natural several months ago and was pleasantly surprised when it lived up to all it's promises It really is so easy to use and you use so little so one compact will last a long time. I have very sensitive fair skin that reacts to most cosmetics but with go natural I have no breakouts or rosacea. Thanks for such a great product.
5.0 out of 5 stars  in my case, one shade does fit all - July 18
Verified Purchase
I ordered Go Natural a few months ago. I got sick and tired of wasting my money on all different kinds of liquid makeups and never finding a color that matches my skin. Go Natural is quick and easy for me to apply and it's just enough makeup for my face. Very happy with it.
By onecent    5/5   Great product! 
from Roanoke Rapids, N.C.
Comments about Go-Natural® Go Natural All-In-One Powder:
 This product is absolutely a must have! its so simple to use, the key is not to use too much, the results are mind blowing! when i use this, i look so much better & I don't have that wore out exhausted look, I just cant say enough about this, its great! every woman who has a ton of make-up, really only needs Go-Natural.
Great Product for an Everyday Look!,
Maggie Mae (WA, USA (the other Washington)
 I swear by this. It is so easy to use and the results are impressive. If you want just a simple look, this is the product for you. If you are after dramatic/evening makeup then you will want to use eyeliner, mascara, etc in addition to this. What I like is that the color is self adjusting so you don't have to worry if you got the right shade or not.
Order 2 + for Free Shipping - Worldwide

Fully Insured - USPS Global + Canada Post
Share
View full details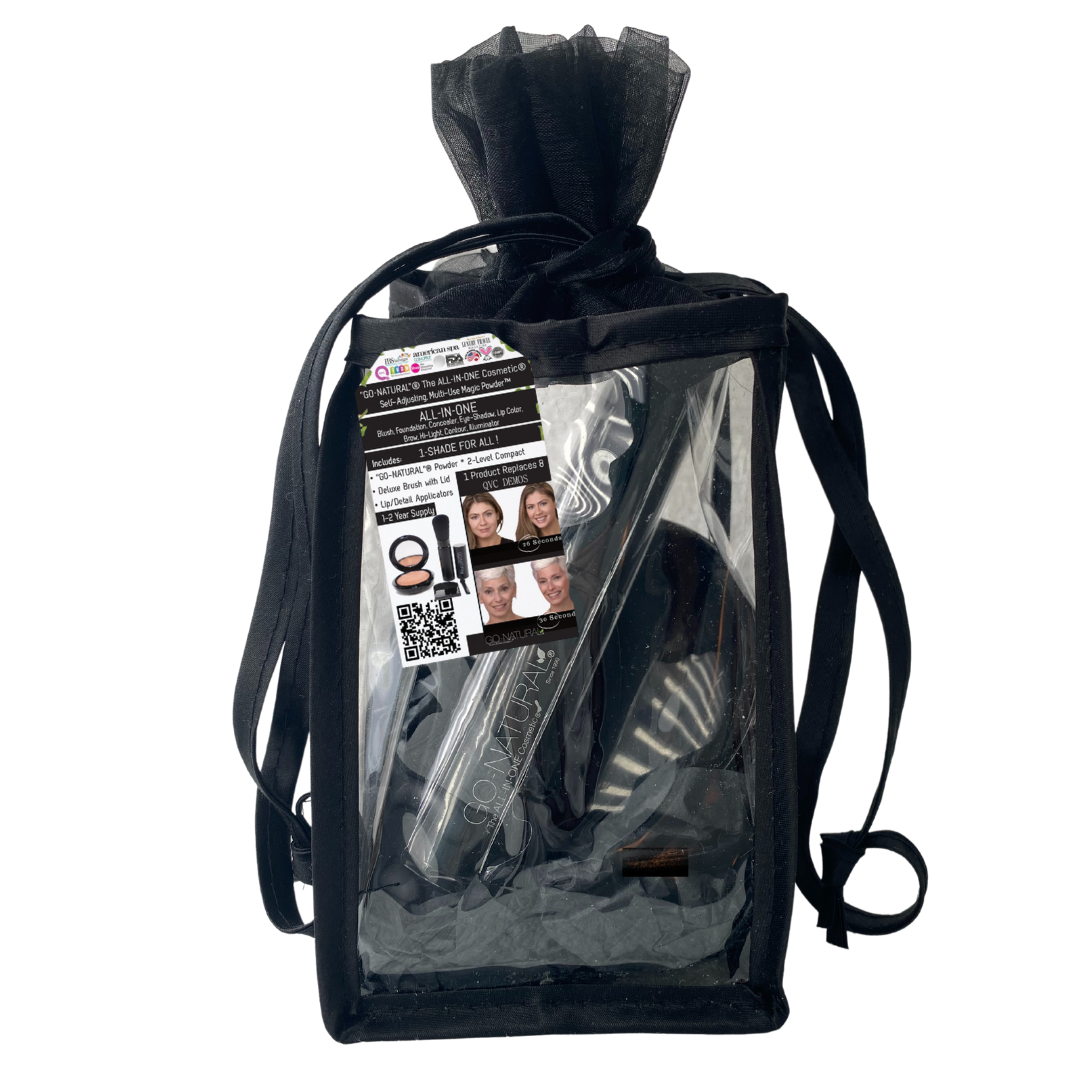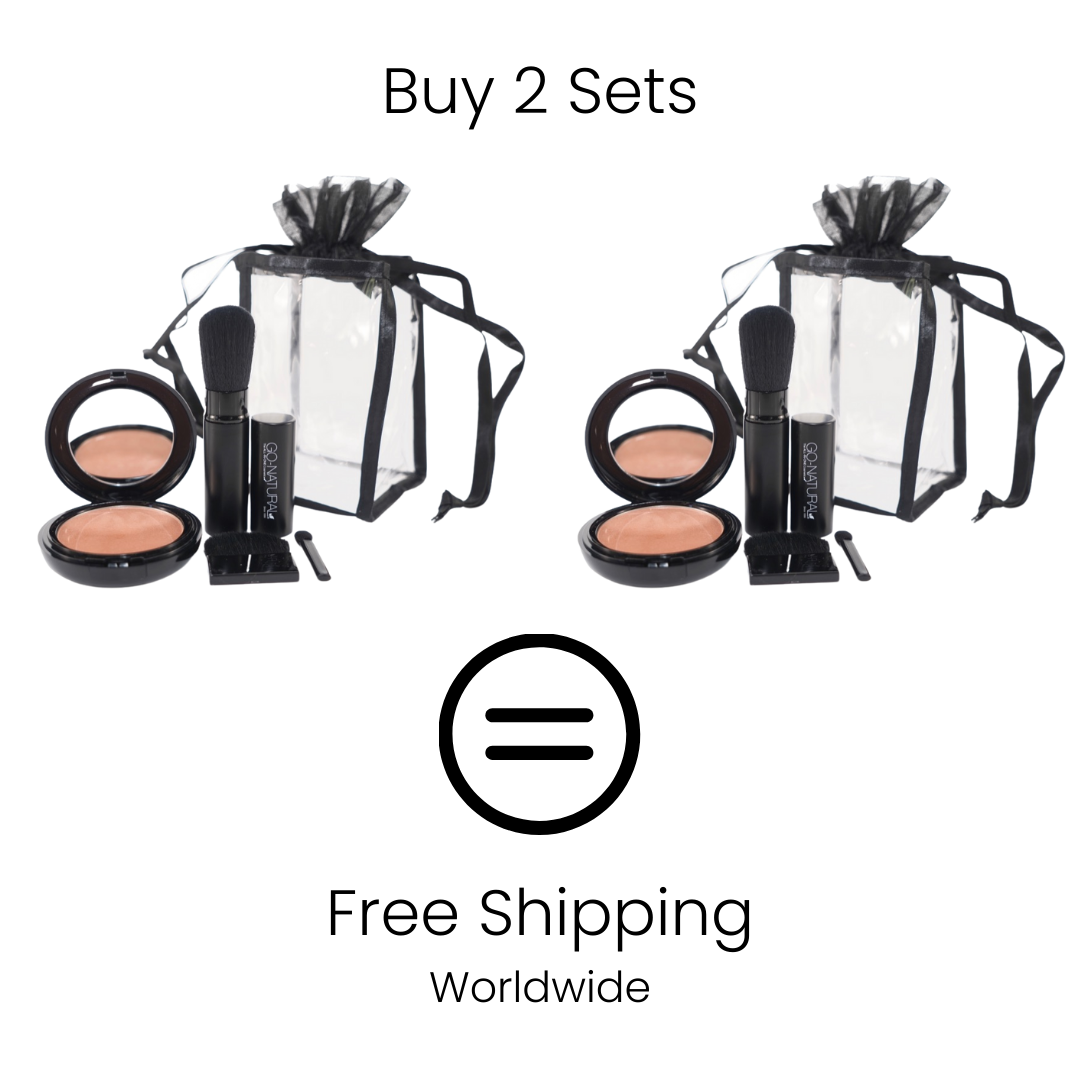 more Real Reviews

Fabove Professional Beauty Supply

Go Natural is fabulous!, March 17

Reviewer: Denise (Orleans, Ontario)

I love Go Natural! As well as being convenient and portable, it really gives a lovely natural colour and glow to my face. I have very fair, sensitive skin and I have no problems with product at all. In addition to using add a lovely blush, it also provides a natural depth to the eyes when applied as an eyeshadow in the crease. A little does go a long way and I hope you will always continue to provide us with this wonderful product. I will be purchasing this forever!

more Real Reviews

SOUTHERN WOMEN'S SHOW

Orlando Fl

***** 5/5

I bought this product at the Southern Women's Show here in Orlando. I really didn't think it was going to do what it promised, but it looked nice when I looked in the mirror after the rep applied it, so I caved in and bought it. I wore it to work that Monday. The compliments started as soon as I walked in the door. I can wear more and different colors now in clothing and in lipsticks. Plus I don't need other makeup, such as eye shadow and liner anymore. Please don't ever stop making it!

more Real Reviews

5/5 **** An amazing product. Bought my first one many years ago

Verified Purchase

An amazing product. Bought my first one many years ago. I decided to check website to see if they still made it and they did. Well worth the money. It lasts a long time

more Real Reviews

Kim

from Central Valley, CA

June 13 ***** 5/5

 

I was skeptical, I've tried many powders supposedly good for all skin types with no luck, but this one delivers. I love this product, it's easy, great to keep in purse and perfect for light traveling. It was a nice surprise to see it came with a retractable brush.
Like other viewers noted, it gives a just-returned-from-vacation, healthy look to my face. I will order another for a back up!

 

Yes, I recommend this product.